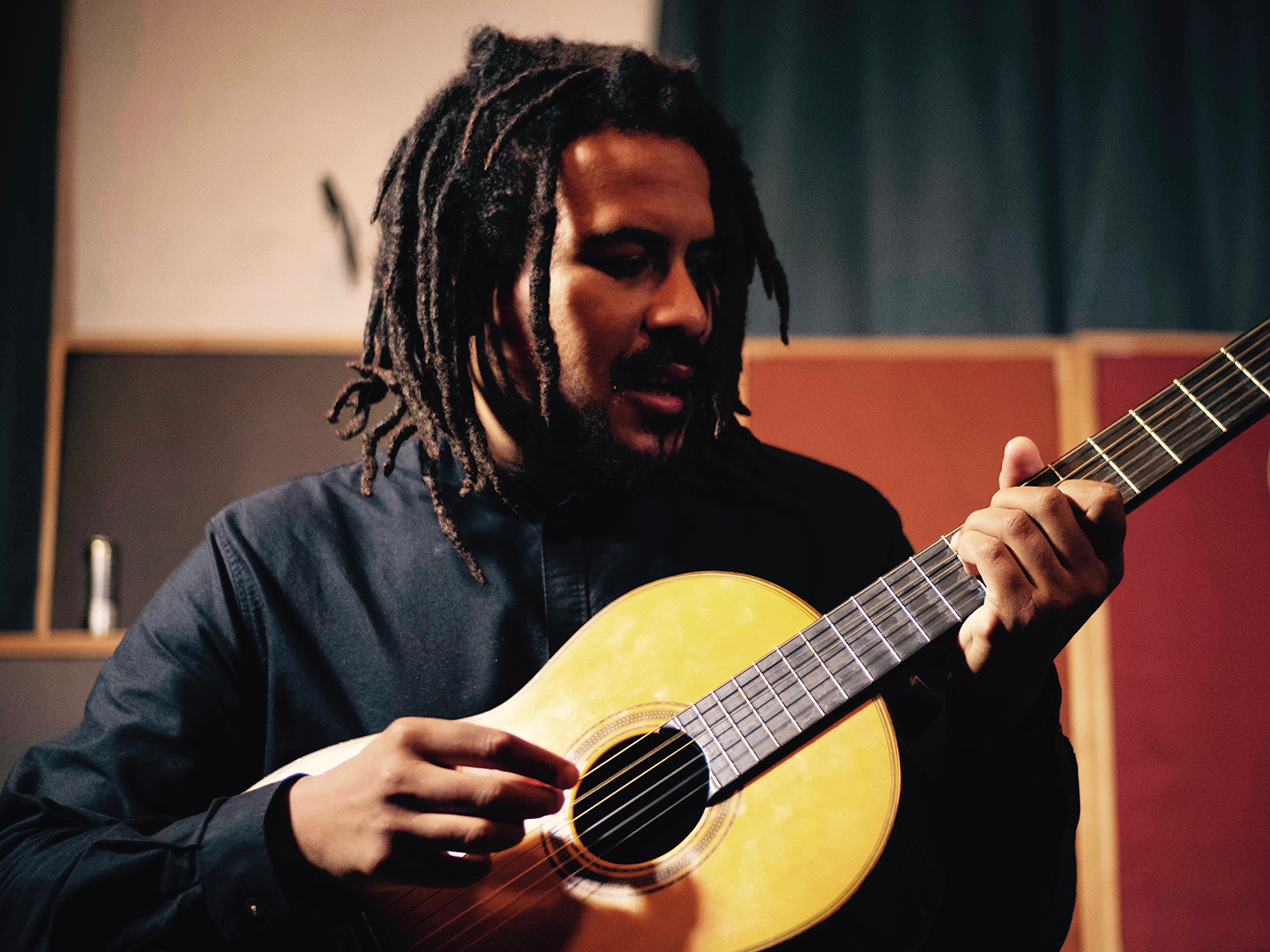 Liam Bailey
Back before the world knew of Liam Bailey's crooning, acoustic Reggae, or his comparisons to an Otis-Redding-type soul sound, or even the depth-of-texture his vocals provide the occasional UK Drum & Bass track—Liam was just another lad in Nottingham, England, being raised by a single mom with a heavy record collection. 
Being the son of an English mother and British Jamaican father who wasn't around, Liam will admit his childhood was fairly chaotic and filled with "all the cliches that happen when people start mixing up in the '80s in England." Those records he'd listen to, sitting cross-legged in front of the speakers, not only provided some solace for a young Liam then. With names like Bob Marley and Dillinger, Stevie Wonder and The Supremes, The Beatles and Jimi Hendrix on their dust jackets, those records would eventually carve into shape the singer/songwriter we know today. 
Fast-forward to 2005, Liam is in London and doing the whatever-gig-you-can-get musician hustle, ideally looking to land a record deal. And it was through this time that Liam first teamed up with Leon Michels, musician/producer luminary, and the co-founder of Brooklyn's own Big Crown Records.
In 2007, Liam's management introduced him to Sounding Out the City, the first record from Leon's El Michels Affair. It blew him away. Liam jumped at the chance to connect with them and collaborate on some writing sessions. Within a week, Liam flew out to New York, met and vibed with Leon and the group, and began writing and recording songs. "It was an amazing first trip to New York," Liam recalls of meeting Leon. "And I've been working with him ever since."
That trip helped kick off what was to follow next for Liam: a slew of record releases, label deals, and working with some wildly-notable mainstream producers. Even a just-famous Amy Winehouse heard one of Liam's apartment-made, lo-fi recordings through a friend and liked what she heard. Regardless of the audio quality, Liam's particular sound shone through—all guitar, warm-rough and genuine soul. She signed him to her label shortly after.
But, as the story can go with major labels, they already had an idea of the Liam they wanted to make, promote, and push. With the typical pay-day enticement, Liam did his best to fit into whatever shape they put him to. "'Maybe I can make it work,' that's what you're thinking," Liam remembers. "But, you quickly find out that you can't." The prospects of trying to maintain for these labels became quickly apparent: you may win, and then lose yourself—or you just lose.  
Still, Liam considers himself lucky. "I always knew that I wasn't defined by the deal that I was in," Liam reminisces. "I had this feeling that I'd just keep going…" Liam confirms it was this youthful arrogance that both contributed to those past prospects going pear-shaped, but then also helped him to save himself. "It taught me the value of listening to your instincts, the importance of believing in yourself—and not trying to find that self-empowerment through something you don't understand." 
But the work accomplished and captured from that 2007 NY trip continued to linger. The evident chemistry of Liam, Leon, and the group produced something else lasting from that 2007 NY trip: the 7-inch "When Will They Learn/I'm Gonna Miss You." Released five years after it was recorded, "When Will They Learn" was a near-instant roots classic and still bangs up club Reggae nights to this day. With a strong relationship established, Liam would regularly reconnect with Leon and collaborate. Finally, in 2019, the time was right to do a full-length album together. And this time, it would be free of any restricting major label presumptions and opinions. 
His debut album on Big Crown Records is called Ekundayo. And the word's meaning may be all you need to know to get to the essence of this project. It means "sorrow becomes joy" in Yoruba, a language spoken mostly in Western Africa. Liam's potently unique voice has always had to fight against label agendas to get through. Now, teaming back up with Leon and his production, that restraint has given way to a pure, liberating freedom that trusses up the entire record like a spine.  
"This is the record we always wanted to make," says Michels, nodding at those past projects, where they bottled a spark of lightning in a studio session. But then there always was the slightly deflating feeling of whether or not Liam's label situation at the time would like it. 
On the surface, Ekundayo is a weighty Reggae record, full of new and old textured riddims. But listen more in-depth, and you'll find subject matter that's more recognizable from a modern-day R&B record. 
An example of the former is the first single off the album. Sung to the most beautiful woman at the nightspot, "Champion" is a joyous anthem powered by a silly-thick Juno-bass throb and 808-proof drums. In short, "Champion" is dancehall-ready. 
But then there's a song like "Don't Blame NY." Moody and sparse with a somber drive, you might have to resist the urge to compare it to a Frank Ocean-ish type vibe. Liam's voice is in a different but fitting element here, showing stripped-back emotion and soulful restraint. And then, anyone who has lived and tried to thrive in New York won't have a hard time relating to the lyrics. 
Credit to Leon's hand, elements of Jamaican production are everywhere, peppered across the record. Like the pitch-perfect organ stabs that push through the authentically positive "White Light," or the muted, percussive guitar strums that chug along in the back of "Fight."
In the same vein of any fantastic singer/songwriter album, Ekundayo is a reflection of who Liam Bailey is, a portrait of him for us to consider and take in. And what we see is an artist growing into himself, taking on topics and approaches he never would think of just a few years ago. Some evidence: "Ugly Truth" is about reconnecting with his biological father, a subject he once thought would be too personal to address. Sometimes we can't express ourselves before we're ready to. 
The journey from conforming to major labels to this latest record has been a long one for Liam, and a bit of a struggle. But struggle may be the only way we truly grow and evolve. With a new clarity of purpose, sound, and life, Liam has found joy out of those struggles. And it's called Ekundayo.