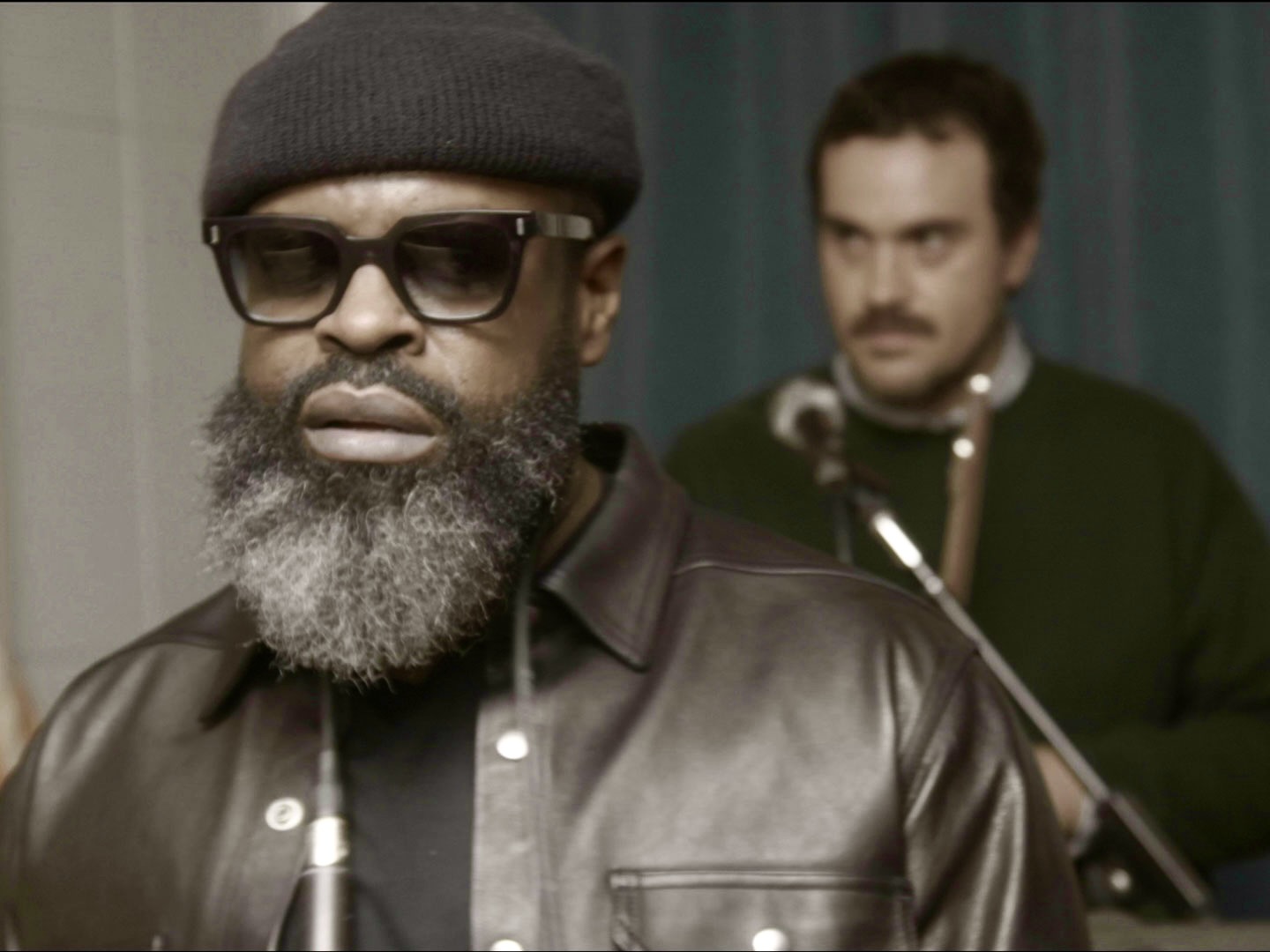 El Michels Affair & Black Thought
When Leon Michels and El Michels Affair released their first record, Sounding Out The City, in 2005, it was hard to guess what was next for Michels and his then-introduced, now-patented "cinematic soul" sound. Now, four EMA studio albums and scores of tribute and remix projects later—all while producing for some of the biggest names in the industry—Michels has trademarked his sound, with each project taking audiences somewhere new and pushing the boundaries of what he is known for. The man is a river, not a lake and this time he takes his golden touch into the realm of hip-hop laying down a musical bed for one of the greatest to ever rhyme into a microphone: Black Thought of The Roots crew. 
Releasing on Big Crown Records, the LP is called Glorious Game and it is a remarkable debut partnership in more ways than one. Michels provides his bottom-heavy, soul-tinged production for Black Thought who gives us some of the more personal and transparent verses we've ever heard from him. Michels and Black Thought have been in each other's orbit for a while now. The two first met in the 2000s when Thought was first getting familiar with the contemporary soul scene. "Out of that whole world, Menahan Street Band was probably my favorite," recalling the funk and soul group Michels was a founding member of back in 2007. Fast forward a few years and musicians from that collective—Dave Guy on trumpet and Ian Hendrickson-Smith on sax —are now full time players with The Roots. This connection eventually led Leon and Thought to doing a few fundraising events around NYC and Philly together. "Before long, Black Thought was coming around the studio and would jam with us from time to time," Michels explains. "Then, fast forward to 2020 and COVID lockdowns, he just hit me up out of the blue, wanting me to send him stuff to write to. We both were looking to stay busy."  
Being that Black Thought is the co-founder and emcee for, hands down, the best live-band group in hip-hop. Michels took a decidedly different approach to this project and instead of sending recorded tracks of live compositions, he pulled out the sampler and sampled himself and some records from his collection. "I'm a big fan of soul music," as if Michels has to remind us. "And part of hip-hop's appeal to me has always been the sample-based production" For Glorious Game, Michels would make wholly composed and recorded soul songs in his studio, sample himself, then chop and/or loop up his sounds and create instrumentals for Black Thought. On some tracks he took a more traditional hip-hop approach, starting from samples of other people's music but then adding live instrumentation on top. But for the most part, it's him reinterpreting his own compositions into something new. 
The result is an organic feel of loop-based tracks that breathe and fluctuate enough for Black Thought to flex on. "What I write about is determined by the equation of the producer's energy and my energy," Black Thought says. "It's about where we meet." So armed with Michels sampled and re-sampled soul cinematics, Black Thought rhymes through personal memories and distinctive perspectives, all dripping with visuals. 
The first single titled "Grateful"—a thick, low-end banger with a haunting flute line—gives you a nice intro into how the record will go. Black Thought's verses lay heavy in the way we've come to love: cadences that walk a line between street teacher and poet, explanation and experience, as he pays homage to what's come before him and how it's made him". The title track "Glorious Game" with its unhurried bassline and bouncing drum track finds Black Thought rhyming double-time about the trials of fame and respect but also speaking to his gifts and his well established place in hip-hop. On "The Weather", he paints a vivid portrait of growing up in Philly. You can almost see his Grandma's house in your mind as he rides the tempo changes of the track flanked by ghostly background vocals. 
"To me," Black Thought says about Glorious Game, "these songs are like scenes from a film that is my life. That's the way it evolved." And with his pure lyrical skill on full display and Michels' custom-made approach to making beats, this record is a bit of a rarity in today's hip-hop atmosphere: there are no flashy guest features and no attempts to be on trend. "This is an effing rap record. He's a storyteller; the point is to listen to the story. It's not a verse-chorus, verse-chorus approach. Listen to what he has to say and the way he has to say it."