Sunny & The Sunliners – Black Friday 2017 Record Store Day Reissue Albums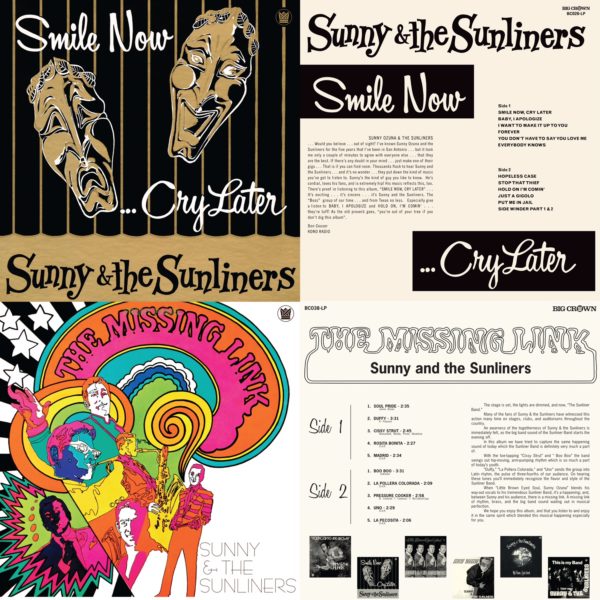 Sunny & The Sunliners Full Length Reissue Albums For Black Friday Record Store Day 2017
"Smile Now, Cry Later" and "Missing Link" coming this November 24th
Available at your favorite local record store
For more information login onto: http://recordstoreday.com/
When it comes to living legends in the Texas and Latin Music pantheon, few have been at it longer and are more revered by their fans and peers than vocalist, songwriter and bandleader Sunny Ozuna. Born and raised in San Antonio, where he still resides, Sunny became a star right out of high school in the late '50s and hasn't looked back in the six decades since.
First up is Smile Now, Cry Later, a 12-song platter which first hit in 1966. As with most Sunny LPs, this is a mix of soulful originals – most notably, "Smile Now, Cry Later" and "Put Me In Jail" – and provocative, wide-ranging covers. Cases in point on the tributes side of this great album include the Sam & Dave shouter "Hold On I'm Comin'"; "Forever," made famous by both the Marvelettes and Marvin Gaye, and a song that Sunny performs to this day; and the '60s Louis Prima crooner special "Just A Gigolo."
Second in the reissue series is The Missing Link, a 10-cut, all instrumental album, and the tracklist is a wild ride indeed. Ranging from hip soul – James Brown's "Soul Pride," The Inclines' Muscle Shoals groover "Pressure Cooker," and the Meters classic "Cissy Strut" – to a wide swath of '60s Texas Latin party essentials ("Uno," "Rosita Bonita" and "La Pecosita"), the Sunliners are in top form all throughout. It won't take much to envision a San Antonio backyard BBQ in the early '70s with this long player spinning in the background, on repeat.