El Michels Affair "4th Chamber" 45 In The Webstore Now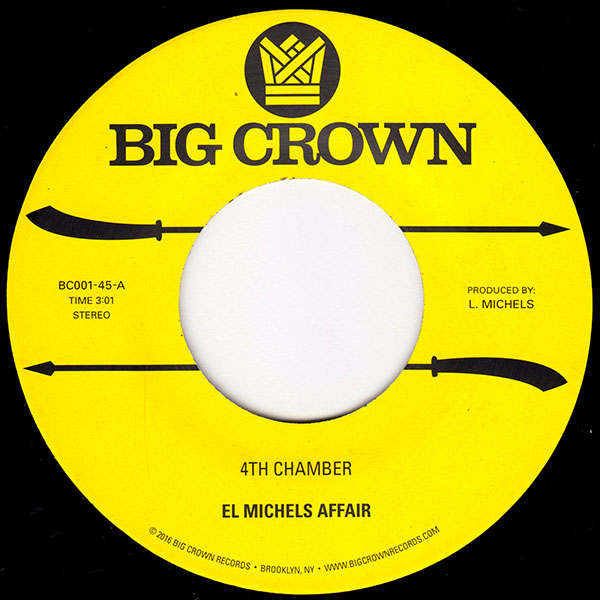 Big Crown Records is proud to present the first single from El Michels Affair's forthcoming Full length Return To The 37th Chamber.
The wait is over, El Michels Affair is back with the follow up to 2009's underground cult classic Enter the 37th Chamber. The first single 4th Chamber, a cover of one of the toughest GZA tunes from Liquid Swords finds EMA's signature sound stronger than ever. Fuzz guitar and synths reminiscent of Morricone scoring Scarface dance over absolutely crushing drums giving the original RZA production a proper run for it's money. The lush production and choices of instrumentation take a Hip Hop classic, and bring almost a Heavy Metal influence to it while never losing the groove. The B side is something of a Big Crown family affair, El Michels inviting the one and only Lee Fields to the track to sing the vocal part over from Ol Dirty Bastard's rawer than raw album cut Snakes. The tune starts with a sweet stripped down vocal performance from Lee then quickly turns dark and tests the durability of your speakers. EMA taking a small bit of the sample track and turning it into a thing of it's own, once again the tried and true pairing of producer and singer bring us yet another timeless classic. Seven years later it is safe to say, El Michels Affair is sharper than ever.