BIG CROWN WEBSTORE HOLIDAY SALE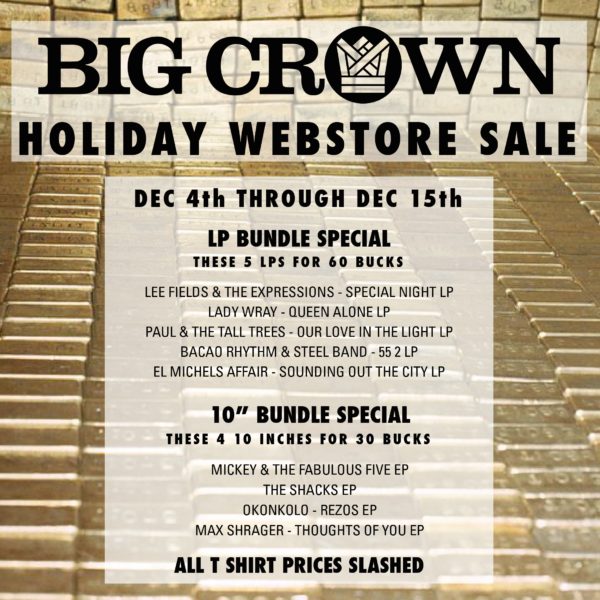 Big Crown Webstore Holiday Sale
Give the gift of music, whether to yourself or to a friend, family member, pet, etc. We are running a holiday webstore sale from Dec 4 – Dec 15th. All orders placed by the 15th will be shipped out by Dec 17th, so consider shipping time to wherever you are sending. There's 2 bundle deals to choose from.
Holiday Sale LP Bundle – These 5 LPs for $60
Lee Fields & The Expressions "Special Night" 
Paul & The Tall Trees "Our Love In The Light" 
Lady Wray "Queen Alone"
Bacao Rhythm & Steel Band "55"
El Michels Affair "Sounding Out The City"
Holiday Sale 10" bundle – These 4 10"s for $30
The Shacks "The Shacks" EP
Mickey & The Fabulous Five EP
Okonkolo "Rezos" EP
Max Shrager "Thoughts Of You" EP
We also discounted all the T shirts in the webstore a bunch. 
Thank you for all the continued support, Happy Holidays.