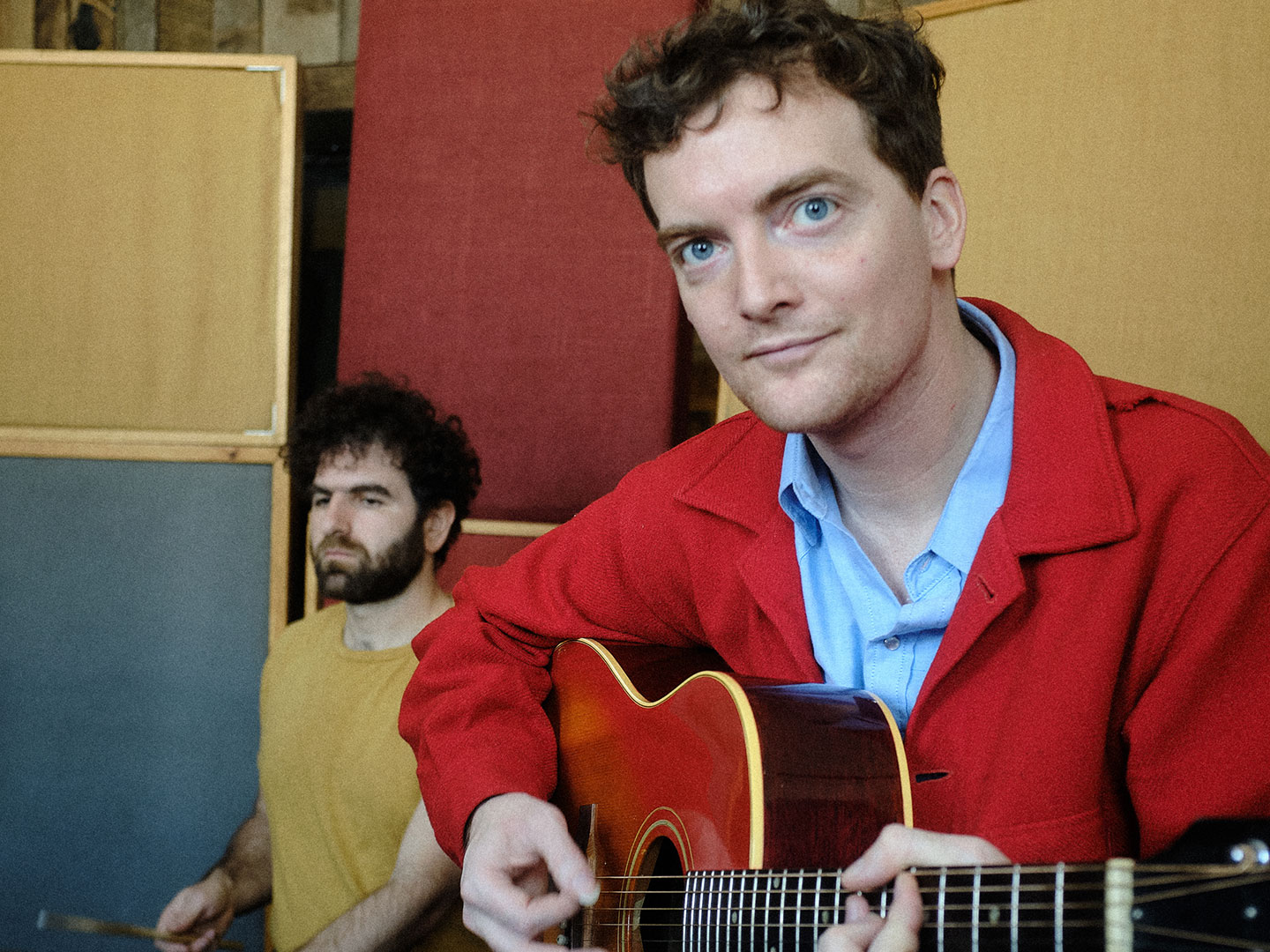 Holy Hive
In 2020 Brooklyn's Holy Hive introduced us all to something we didn't know we needed. Homer Steinweiss' thickly pocketed drumming paired with Paul Spring's floaty falsetto vocal, reminiscent of some long-lost Beach Boy, produces a sound that's like a salve. It's been dubbed Folk Soul and Holy Hive not only expertly overlay the more apparent musical aspects of folk and soul—but they also draw from the more profound: being able to pull traditions from the past and make them their own. 
Nearly a decade ago, Homer and Paul met in Minnesota through a family introduction. Shortly after, when Homer wasn't playing drums for Lady Gaga or Adele or Bruno Mars, he'd produce Paul's solo folk records. Along with original bassist and frequent collaborator Joe Harrison, these sessions proved to be Holy Hive's foundation. And their first record, Float Back to You, expertly combined what each musician does best: Paul's heady, reflective approach to folk with Homer's universal classic soul sound. 
With their new record released on Big Crown, Holy Hive's beautifully simple-and-sparse Folk Soul sound is back—but updated. With new influences and the challenge of creating and capturing music during a global pandemic, this new self-titled album, is more personal, more reflective. 
The first single off of Holy Hive, "I Don't Envy Yesterdays," picks up right where Homer and Paul left off. The song weighs the question of time and the human condition—a deeply thoughtful and typically tricky subject—but in a light, almost easy-breezy way. Homer's drumming provides the song a space, a kind of breathing room. Written in the Yucca Valley desert before the world broke in 2020, it's no wonder Paul's voice drifts and darts on top of it all like a heat shimmer. 
They describe three distinct phases when piecing together Holy Hive: this first stage was pre-pandemic in California while traveling as a group, then—like the rest of us—they were separated, creating together but apart, and lastly an explosion of output once they reunited in New York. "You have these natural songs that are pretty raw that came out of touring together, " Paul confirms. "And then there are the songs that we started but had to be worked out in quarantine." Which led them to the last stage, which was charged with productive creativity. They both challenged each other to bring new compositions to the project at a fever pace. "Those songs definitely have that kind of energy," Homer remembers. "Just like: Write it, play it, record it, and finish it. So these songs are a combination of where we wrote them and where we finished them—from the lyrics to the production."   
There is a natural but subtle evolution for Holy Hive on this record. They both were influenced by sweet-sounding deep soul and a tinge of folk on Float Back to You, which initially established their sound. Now, Holy Hive drives even further. From narrative-driven Mexican ballads to the urge of Turkish funk or the intimate arrangements of a solid Chicano Soul song—Homer and Paul drew from new and maybe more obscure-yet-honest influences. It's still very much Folk Soul—how could it not be. But, like all artists, they've taken in what they've made and how they've made it, only to push it into new places. 
And then there's the subject matter. We know of Holy Hive's ability to lyrically convey the abstract and complex in poetic and palatable ways. But where the first record was soulfully silver-tongued with chill songs about love and affection, Holy Hive widens the lens with these novel influences, reflecting the points both Homer and Paul are in their own lives. "We put the utmost importance on having lyrics that mean something to us," Homer explains. "A lot of the songs on the first record were fun, but could be kind of surface. On this record, we wanted to be more personal—we wanted to write more about life." That means running the entire spectrum—from the joys of partnership to the profound depths of how all things, regardless of our trying, do end. It's not all that different than being in a meaningful relationship: first, you fall in love, then with the joy and safety that brings, you start realizing how big the world is and the questions that come with that perspective. 
You can't go on about Holy Hive's poetic sound without mentioning where it was refined. A good chunk of Holy Hive was perfected at The Legendary Diamond Mine studios. It's become a kind of hub, not only for many Big Crown artists but New York musicians in general. From the famous soul singers Lee Fields or Charles Bradley, or the production prowess of Leon Michels and Mark Ronson, or polished pop songs from Dua Lipa—there is something in the water near the Long Island City, NY studio. So we shouldn't be surprised that Holy Hive has both contributed to the studio's legendary status as well as benefitted from the vibe sustained there. 
In these times of instant access and all-encompassing stimuli, the distilled simplicity of Holy Hive can remind us that growth typically comes from restraint and subtraction. What more do we need than drums, guitar, an alluring voice, and relatable songwriting to remind us of the depth and paths of our own lives? By pulling on the long strings of folk and soul—those genres of and for the people—Holy Hive has yet again weaved something new with this album, but also something elemental, for us to find ourselves in.